Scary Office Halloween Door Decorating Contest Ideas For 2022
coupon4all.com
Finding Halloween decorations or coming up with fantastic but spooky Halloween ideas can be challenging. Recently, creating DIY Halloween decorations has emerged as a cool thing to do during the festival. In this article today, let's take a look at some of the scary office Halloween door decorating contest ideas this year and bring a new atmosphere to your office. Let's start!
Here are 10 nifty and cheap Halloween door decoration ideas you can refer to.
Office Halloween Door Decorating with banners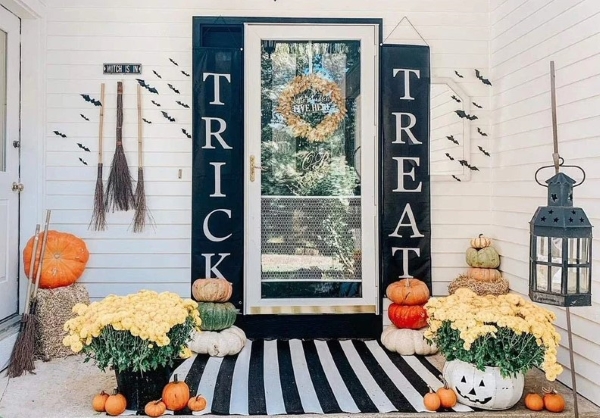 One of the simplest and least expensive outdoor Halloween decorating ideas is to use a large banner for the Halloween door decorating contest. Halloween banners can be the entire length of the door or just a part, it depends on your preferences and wishes. Banners often contain words or horror pictures to create a spooky, creepy feeling, suitable for the festive atmosphere. But you can add a little fun twist by using fun cartoon stickers on your banners. Try it now!
Door decoration ideas with the witch welcome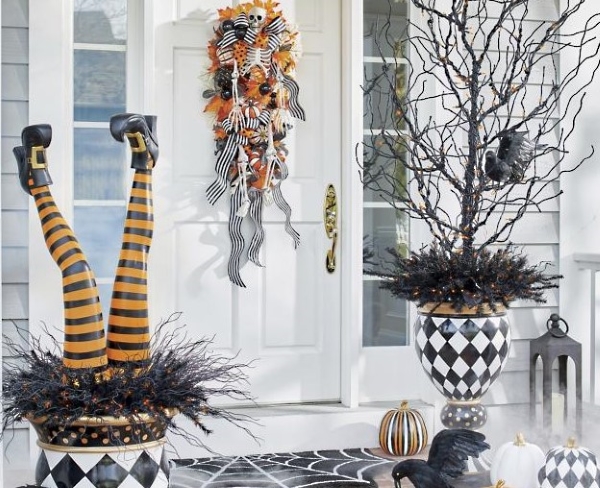 Welcome your co-workers or guests into your office - if they dare - by creating this unique Halloween decoration on the front door. Experience a variety of emotions together during the spooky festival season. Get used striped socks and newspaper to fake the legs and use pair of worn pointy-toe heels to complete. Decorate with a few pumpkins, crows, bats, or dried branches to win prizes for your department.
Spider webby door decorating idea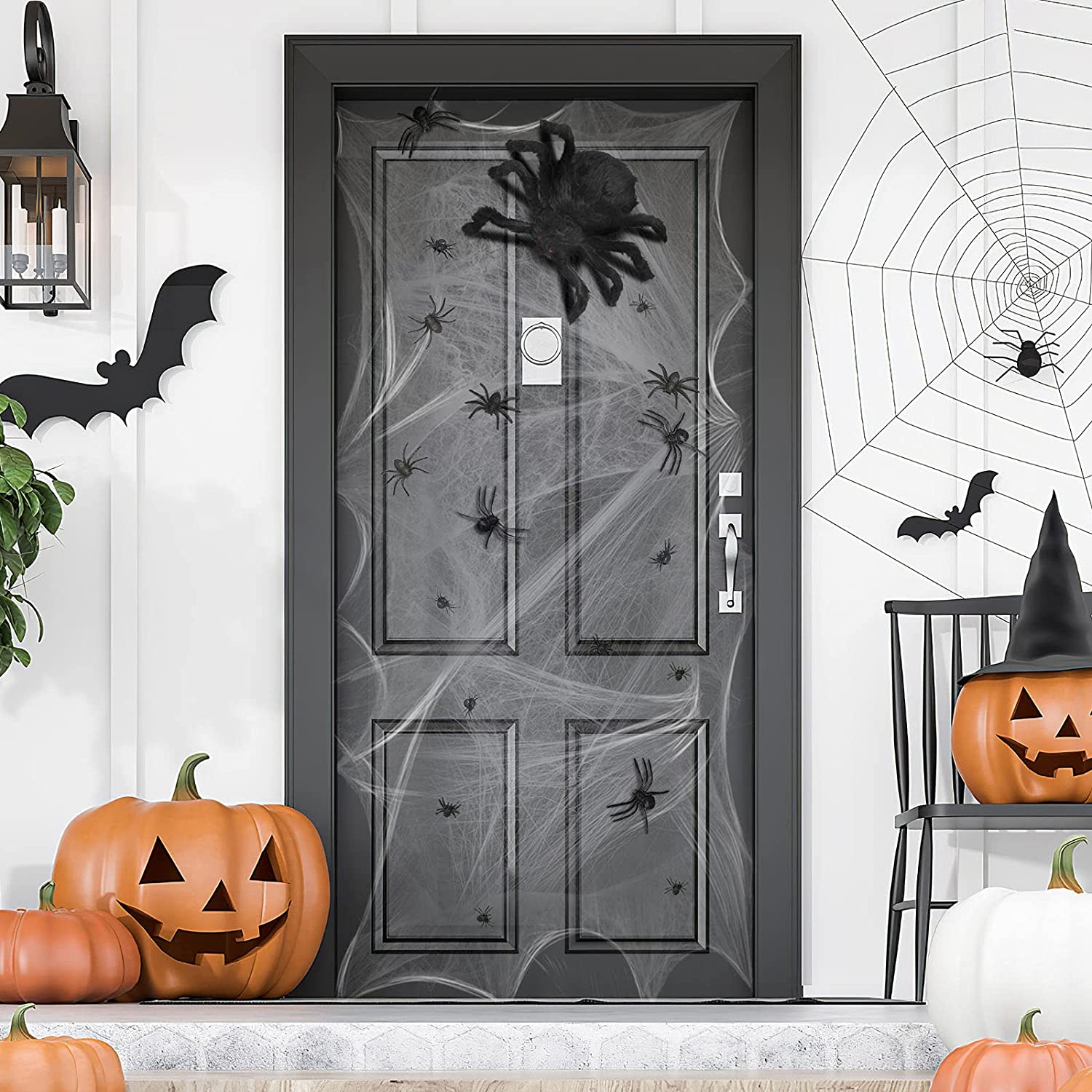 Coming up with an idea for the office Halloween door decorating contest is difficult for you. Don't worry! Try this spider webby idea, it may scare anyone. Draw many large and small spider webs on the curtain of the front door and add giant spiders. Head to The Home Depot if you are looking for spiders Halloween door decorations, and you may receive discounted prices this October by using Home Depot coupons and special offers. Plus, rats can be added to the bottom of the door or the fake cobweb at the bottom for a more intimidating feel. Join the office Halloween door decorating contest and start creating to have the most impressive yet horror work.
Eye monster door decoration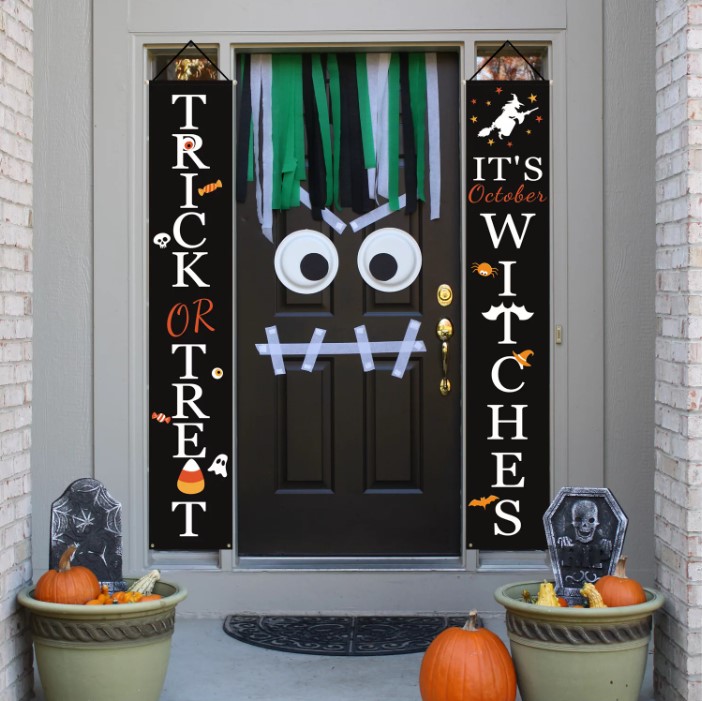 We always think that Halloween has to be something spooky and creepy, but why not add something cute or funny to refresh this year's festival? With duct tape, paper plates, and crepe paper rolls available in the office, you can start these wonderful and scary Halloween door decorating contest ideas. First, you grab some crepe paper rolls in any colors that contrast your door and then glue them to the top of the door to create long fringes. Use duct tape to create eyes, mouth, and eyebrows for the adorable monster on the door. With this idea, you can unleash your creativity to create the characters you want.
Your front door with full of vampire bats
October is coming, and Halloween is knocking on your door. It's so much fun to cover your office door with a colony of bats, and it's not too difficult to do, either. All you need is to use black fabric or paper and cut out vampire bats, or you can find bats from stores, such as Spirit Halloween, that sell Halloween decorations. We recommend you create bats yourself as they can be found for free on many websites. Paint your door red if you like, and glue bats to the entire office door today.
Halloween door decoration with skeleton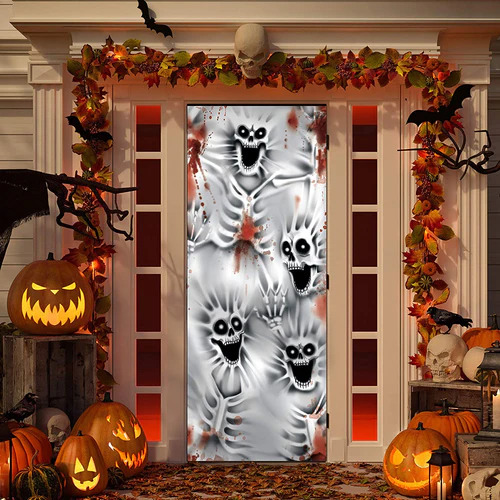 Do you dare step through that horror door to know what awaits you behind? Sure, skeletons, pumpkins, bats, and more are popular Halloween door decorations, and you can easily find them anywhere. However, instead of using a bulky skeleton, you can choose prints with skeleton images and stick them to your front door without hassle. Don't forget to shape your pumpkins. The pumpkins with scary lit-up faces at night are sure to bring smiles to everyone's lips for Halloween 2022. Many high school students also use these items for their Halloween classroom door decorating contest ideas, too.
"Night watcher" owls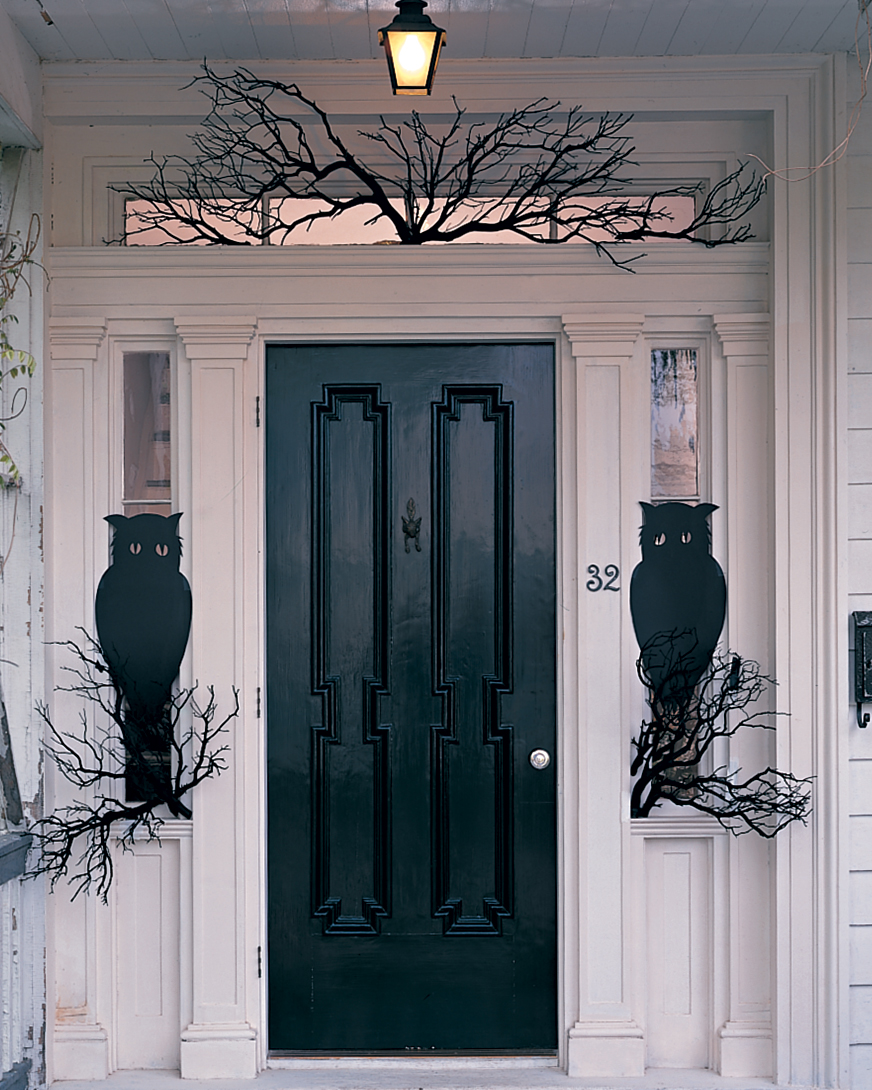 Are you looking for a stylish yet spooky way to greet colleagues and guests this Halloween? Do you have any Halloween door decorating contest ideas? Try finding free "night watcher" owl models on many websites and prepare fabrics or poster papers to cut out owls and ravens as well. Get dried twigs and paint them black to create better scenes and prepare well for the next October 31st.
Halloween door with ghosts
Instead of being scary, these ghosts at your office door have a bit of fun and hospitality. Your office will be the focal point when you stick or hang these ghosts on the front door or two sides of the door to make it like the spirits are watching over your office. More important, they can be reused for years if you use and store them carefully.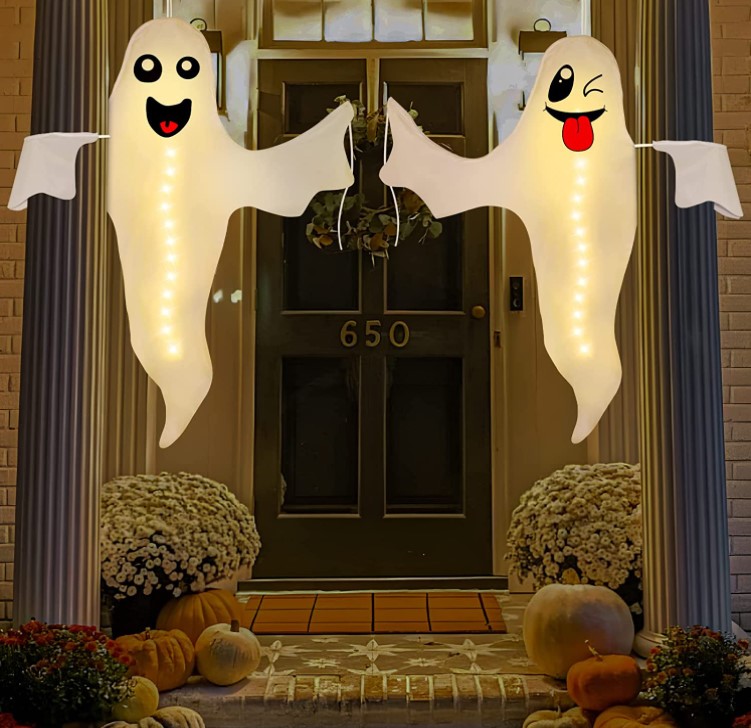 What spooky decor style do you want? Do you like a unique wreath in cute Halloween colors? Do not hesitate to consider the office Halloween door decorating contest ideas we recommend and think about your taste, you will end up with the Halloween decorating style of your wish.
Before shopping for Halloween decorations, remember to check Coupon4All to find and use Halloween coupon codes for great prices. We've helped thousands of customers to lower their out-of-pocket expenses when shopping online, believe us. Join in and start saving!